Bound to Bounce Intensive - South Africa
11 &12 March 2022
Bound to Bounce Intensive has an improved learning structure. This course starts with a two-day intensive workshop in studio and online in Cape Town, South Africa. On completion of the workshop, you will have full access to the online course work to complete each module at your own pace and in your own time.


2 Day Live Workshop

In Studio and via Zoom at Woodstock Pilates, Cape Town

Library of Class Videos

100 B2B Classes for Log Hours

Self-paced Learning

9 Modules Online over 6 months

Printed and Downloadable Manuals

Theory & Practical Pictorials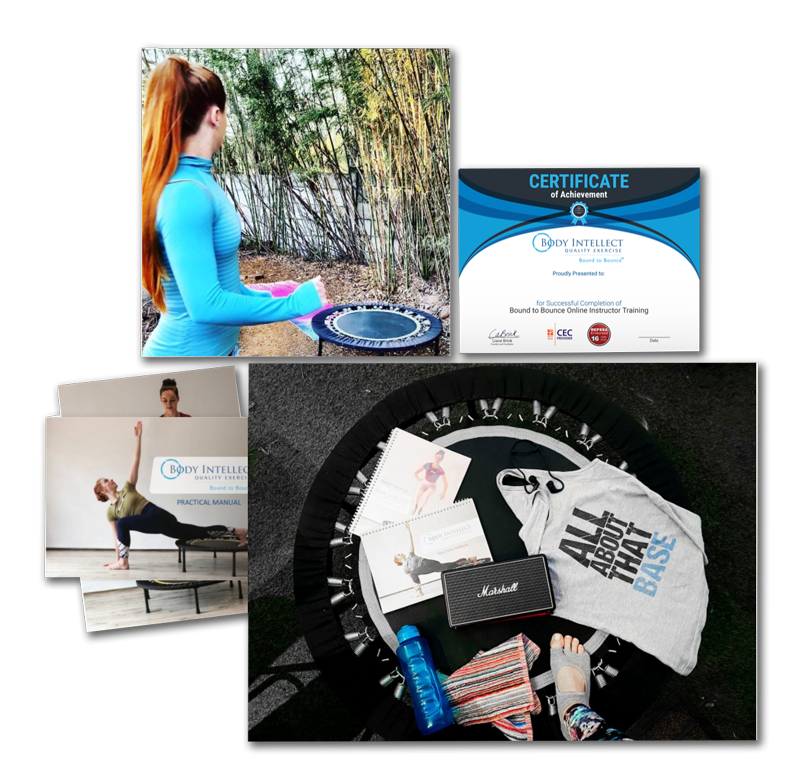 Bound to Bounce Online is an educational course for movement professionals and teachers who would like to expand their field of expertise to becoming a qualified Bound to Bounce instructor using the rebounder as the primary piece of equipment. This course was designed with a holistic mindset, taking sound posture, mindful movement patterns and body awareness into account.
This course is affiliated with REPSSA (worth 16 points) and the National Pilates certification program and is worth 20 NPCP CEC points.

2 Day Intensive Instructor Course in Cape Town, South Africa or Online via Zoom

1 Certification

200 Question Exam

9 Modules Content Videos

Theory & Practical Manual
2 Day Workshop
10 hours of intensive studio work over two days with Liané Brink, covering all content relevant to Module 1-9 in the Bound to Bounce certification course.
Online Platform
You will also learn how to put the ideas presented to you into action and build your own unique Bound to Bounce style using progressive layering, suited to your clients' needs.
PAYMENT OPTIONS
If you would like to enroll by paying the full course fee of $630 using PayPal, please click on the 'Enroll' button below and you will have instant access to your course.

Alternatively, you can choose to pay in ZAR using your credit or debit card (through PayFast) or select a payment plan.
Payment Plans
Please note, when you select to pay via PayFast or opt for one of the payment plans (PayFast and PayPal), your course will be available on your platform once we have received your first payment. This may take up to 24 hours so please keep an eye on your email for your notification.
MEET YOUR INSTRUCTOR
Liané Brink
FOUNDER - BOUND TO BOUNCE
Liané holds a National Diploma (SA) in Dance Technology. She has 20 years of experience in the movement industry as a professional dancer, teacher and choreographer. Liané is a certified Group fitness (HFPA), Zumba, Rhythm Pilates and Comprehensive Basi Pilates instructor. She also qualified as Rebound instructor through Rebound SA in 2018.
Created with